Dan Davidson – HMF Concert Series
August 5 @ 6:30 pm

-

11:59 pm
Join us August 5th for a great night of music! Doors open at 7, opener at 8, Dan Davidson and then an after party. Beverages will be cold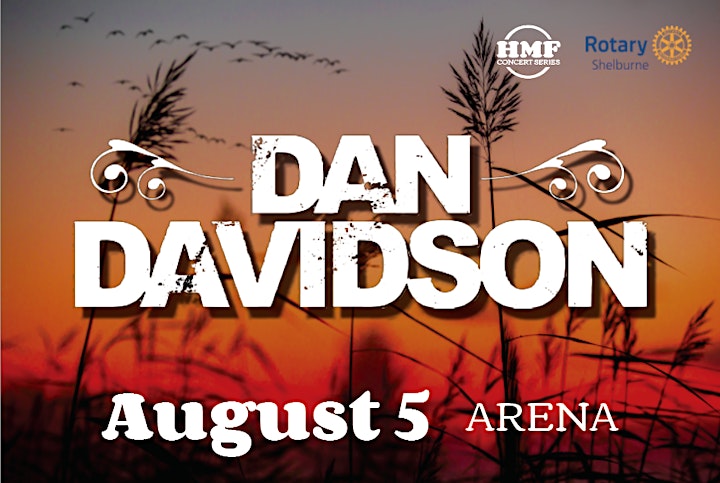 Alberta's country sensation Dan Davidson has created undeniable
momentum in the last few years. With 6 CCMA nominations, 10 ACMA awards, a gold record, a number 1 selling Canadian song and record, top 20 charting numbers and hundreds of performances – it's easy to forget that he is still independent.
Dan exploded onto the Canadian country scene in 2016 with the release of his second single "Found" (Co-written by Clayton Bellamy of The Road Hammers). Dan became arguably the indie story of 2016/2017 as his single "Found" rocketed up the charts and he became the #1 charting indie artist in Canada. It was also the #1 selling Canadian country song for several weeks. On just his second release ever in country music – he has a GOLD single.
Dan is only 5 years into his country career, but is far from "green" in the music industry. He spent over 10 years playing in the well-known Canadian indie rock band Tupelo Honey (who had several top 40 hits, top selling iTunes records and toured with bands like Bon Jovi).
One view of his music videos and you will understand that the fun, sincere energy Dan brings to country music is truly unique. The video for "Found" cost only $500 and yet somehow it was top 20 on CMT; the video for "Barn Burner" involved Dan dressing up as a mixture between John Wayne and Elton John, wandering the streets of Tokyo; and of course we cant forget "Say We Did", which shows Dan converting his garage into a cardboard version Star Ship Enterprise.
Expanding his fan base internationally, Dan has played shows in China, France, Italy, Hungary and now has shows booked in Spain and other places throughout Europe He has now played over 200 shows across 7 countries (including a record-breaking 120 show tour with Brett Kissel on the most extensive tour in Canadian history).
While on tour with Brett Kissel in 2019, Dan's EP "Juliet" was released, and debuted at #1 on the Canadian iTunes Country charts. The album was later nominated for Roots Album Of The Year at the 2019 CCMA, and was the album that won for "Producer of the Year".
Truly embodying the indie spirit, you'll never find Dan just waiting on his laurels. When the COVID-19 pandemic hit, he created and hosted Canada's FIRST live digital music festival "Diesel Bird Fest", which featured some of Canada's top artists including Dallas Smith, Corb Lund, and many more. Diesel Bird successfully raised $54,000 for charity. He then went on to create and host Canada's first hotel music festival (Diesel Bird Hotel Fest) which sold out in 1 day.
Dan's single "Roll With It" featuring The Road Hammers (Platinum selling, Juno/ CCMA award winners), was released in Australia in 2021. On his first international release, he surprised the Canadian and Australian music industry by nearly going top 10 (peaking at #11 on the country charts). The new release "Really Shouldn't Drink Around You" (featuring one of Australia's top artists, Hayley Jensen), is out now, and debuted at #7 on the Australian charts.
Through the pandemic Dan has kept VERY busy. Besides producing THREE top 30 singles in rock and country, he has also gotten 2 records worth of material ready for 2022! "6 Songs To Midnight" was released in February!
Stick around for an after party dance!!